Porn Blocking Apps—Your Perfect Safety Measure for Teens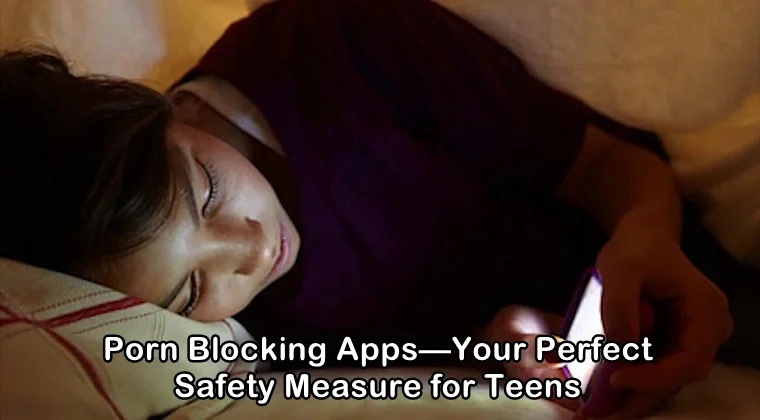 Ever since the technology and the era have advanced, the quality of freedom for the kids has also changed. They want more freedom and fewer restrictions. But in no time, they find themselves in this trap of addiction that leads to isolation, stress, depression, and sometimes suicide. The need to use porn blocking apps has raised recently.
Paula Hall, a sex addict therapist, and expert talked to Metro.co.uk about how pornography is destroying people's relationships and isolating them from the outer world. She opinionated; dopamine thrives on novelty, nothing can compete with that.
People have also reported the feeling of guilt and shame after being indulged in this filth. A survey was conducted by Paula Hall's practice, and it reported that one of every five men shared that they often have suicidal thoughts because of porn addiction.
Michael, 28, was 13 when he was first exposed to this. According to him, he was searching for something about The White House and suddenly the naked women came up on the screen. He felt the biggest rush of emotion that he had never felt before.
In no time, it became his habit, and he was in no shape of leaving it. He used to enjoy the rush at first but it used to turn into hatred afterward. He was ashamed and disgusted. He couldn't leave it no matter how hard he tried. It nearly destroyed his teen life until he was mature enough to do something about it. Michael and many other people have suffered through the same. Read about them as they share their experience of porn addiction.
This is not it, there are millions of kids out there getting exposed to this fake world of fantasies. They seem to enjoy it at first, and then the hate, shame, and guilt overcome them. It is destroying their beautiful teen period and they are having the worst experience in relationships.
What Should Parents Do?
Parents have a big role in this scenario. They can't do anything when the kids become adults, but truth to be told, it all starts when they are kids. Teens' minds are not ready for this, and that's why it destroys their present. Parents, if play their role effectively, can save their kids from this hazardous addiction.
First, there should be an understanding of what porn is. Believe it, no matter how much you restrict it, children are smart enough to find their ways. They will sneak into it in different ways if you don't teach them properly about how fake and dangerous it is. Here is an article about how to talk to kids and teens about porn.
Should We Use Porn Blocking Apps?
Along with having a good conversation and understanding about it, parents can also use parental control apps from the very start to keep porn outside the house. This not only helps in protecting them but also keeps you at peace. They will know what they are allowed to do and what not.
Here is a list of porn blocking apps that you can use to make sure they don't catch up this stuff while surfing online:
1. Microsoft Family Safety
Microsoft Family Safety is one of the most effective porn blocking software with some additional features as well. It is integrated with Windows.
Whenever someone tries to access the blocked porn websites, an error will pop up. You can also make changes in the web filtering levels, time limits custom allow and block list, block file downloads, app restrictions, and activity reporting.
How to use:
Log in to your Hotmail account.
Select the user/account you want to monitor.
The account you want to monitor should be the standard account, not the administrator.
Go to the Family Safety Website. There you can customize anything you wish.
2. Net Nanny
This app is compatible with Windows, Mac, Android, and iOS devices. Not only it helps in blocking porn, but it also offers the features to monitor teens' social media activities, manage internet filters, manage screen time, and much more.
How to use:
Download and install the app on both parent and kid's device.
Go to User Settings from the kid's phone.
Do the customized settings.
All the porn sites will be blocked.
3. SecureTeen
SecureTeen is the best app to restrict explicit content on your kids' devices. In fact, it is the best porn blocker out there. Along with blocking porn, it can also monitor their messages, call logs, location, WhatsApp, Viber, web history, etc.
You have the option to block and allow certain websites through this. You can also put in categories regarding what social media platforms you wish your kid to use.
How to use:
Download and install the SecureTeen app on both your and your child's device.
Sign up after choosing the pricing plan that suits you the best.
On your phone, make a customized child profile.
Now log in to the SecureTeen control panel and start monitoring the child's activities.
On your dashboard, choose the child profile that you want to customize.
Now a tab will open. Click on "URL Settings" under the "Rule Tab".
Enter the URL that you want to be blocked in the text field.
Click "Block."
Now the sites you entered in that field will be blocked from your child's device.
4. BlockSmart
BlockSmart is a very great tool when it comes to website blocking. If anyone tries to access the blocked website, a red stop sign will show up.
How to use:
Download and Install BlockSmart on the computer.
Sign up and make an account.
Check out the settings and choose the categories of websites you wish to block.
You can also add custom URLs as well.
You will need to enter your password every time someone tries to disable, exit or uninstall it.
5. Norton Parental Control
It can block any wrong explicit content that might come across while surfing the internet. It has an automatic filtering system where can just put the age of the child and it will filter the content accordingly.
How to use:
Download and install the app.
Sign up on your device.
Sign in with the same credentials on the kids' device.
Now you can monitor them.
They won't be able to delete or disable the app.
Know more about saving your kids from porn addiction here. Take the necessary steps today but don't forget, a good discussion leads to better results. Happy Parenting!
---