SecureTeen is the Best Porn Blocker for Your Children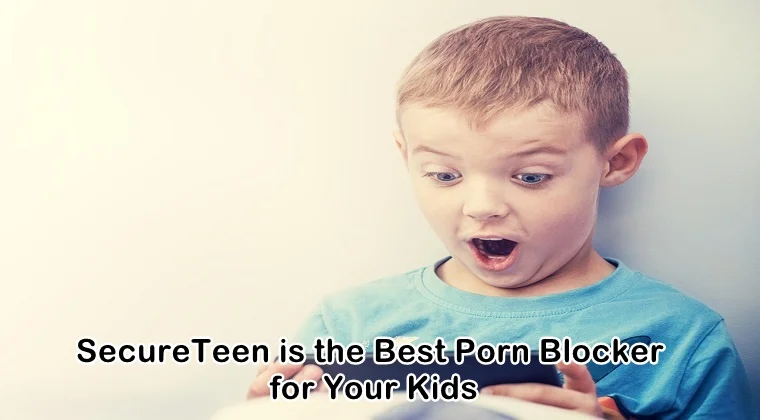 It is every parent's duty and responsibility to warn their children about pornography and all sorts of inappropriate content lurking on the internet. Parents also need to arm their children against this online danger. Numerous porn blocking apps are available in the market but our recommendation would be SecureTeen. Let's understand why we think SecureTeen is the best porn blocker for your kids.
Before we go on to explain why we consider SecureTeen to be the best porn blocker for your children, it is important for you to understand that your children should be far away from the reach of pornographic content while they are accessing the internet.
More importantly, parents should also know the importance of talking to their children about pornography at the right time and right age. By having an open conversation with your kids about pornography, you can find out whether or not they have become more curious than before.
You should make them understand the consequences of watching porn content and how negatively it can impact on their lives. Last but not least, you should be always ready to react whenever your child is exposed to pornography on the internet.
Now, let us find out why we need a porn blocker software like SecureTeen, why it is regarded as the best porn blocker and how this porn block software can help your kids stay far away from porn on the internet.
Why You Need to Use Porn Blocking Apps
According to research, every year, more than half of the children come across pornography accidentally while they are browsing on the internet. It is really important to install porn blocking apps on their internet-connected devices so they cannot be accidentally exposed to porn content online.
Families should pay serious attention towards installing parental control apps and porn blocking apps on their children's devices to keep them away from watching explicit, offensive, pornographic, or otherwise violent content on the internet.
Thankfully, we are not living in a generation where it was impossible to track our children's online activity. With tons of porn blocking apps at our disposal, we can keep our children protected from porn content online.
Parents can put on filters on the adult sites both on their computer as well as a mobile device and make them only access sites that are age-appropriate, useful, and suitable for them.
When it comes to choosing a porn blocking app, it might become a bit jarring for you to decide which one should work best for your kids. In our point of view, SecureTeen is the best porn blocker for your kids as it has been used by parents and families for many years now. This app can be trusted as it has helped many parents in keeping their children safe from all the possible threats on the internet.
SecureTeen comes with advanced internet filtering and blocking porn apps technology. Along with that, it also provides a screen time management feature.
How the Best Porn Blocker Works
By using advanced technology, SecureTeen can filter internet and block apps which may be deemed unsuitable for your children. Even though SecureTeen is a typical parental control app in nature, this porn protection and internet filtering tool does the job of a parental control really well.
You can use SecureTeen either in the form of computer software or a mobile application. Depending upon which device or platform your child is using, you can use the version accordingly. If you want to block adult sites on your child's cell phone then you will opt for the mobile app version and install the app on your child's phone.
Similarly, if you want to set internet filters and block porn sites on your child's computer, you can download and install the SecureTeen software and keep your children safe from pornographic content.
SecureTeen evaluates what type of content your child is viewing on the internet. It assesses the content of all the webpages your child visits in real-time. The reason why the evaluation of the web content of every webpage is important because most websites get updated constantly, adding and subtracting the information every other day.
Since the content is constantly changing online, it is important to notice the demand for an effective porn blocker software like SecureTeen. This app constantly assesses the new content made available on the internet to check whether or not it contains any adult content and then filters and blocks such content accordingly.
As soon as your child visits a webpage that contains pornographic material, the porn blocker app detects the content and instantly puts a filter on it and blocks it while sending a warning to the parents. They will immediately find out when their child has visited an adult site.
SecureTeen is capable of providing several features which are mentioned as follows:
Block adult, pornographic, and inappropriate content
Filter adult content in real-time
Lets children access websites that are approved by the parents. Usually, these sites are age-appropriate and useful.
Instantly allows or blocks websites based on your preferences
Send instant alerts to parents as soon as inappropriate activity in detected online
Block Porn on Your Child's Cell Phone with SecureTeen
One of the best things about SecureTeen is that it is compatible with all the major operating platforms such as iOS, Android, Mac, and Windows. By using this porn block software, you can block porn on both iOS and Android cell phones of your children.
If your child is using an Android cell phone, then you will need physical access to their cell phone for a couple of minutes to download and install the app on it. As soon as the app is installed on their phone, it will begin assessing the content on all the webpages your child visits in real-time.
The app instantly filters and block the adult sites on your child's cell phone once it detects the adult content. For iOS devices, you will not need physical access to your child's phone. You only need to have their iTunes credentials so you can log in to their Apple account and install the porn blocker app on it.
It is recommended to install this porn blocker app on your child's phone. By installing this app, parents can stay relaxed and have peace of mind that their children are safe on the internet.
---