A Complete Guide to Block Porn on Android with The Help of SecureTeen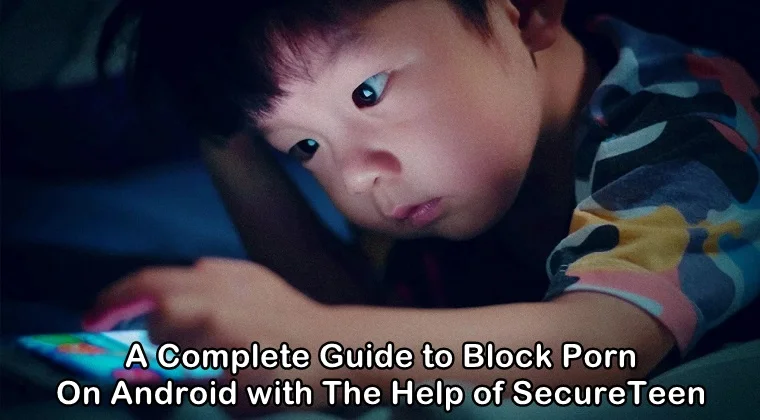 Dan's wife had recently discovered his urge for watching pornography and it had caused them serious distress. Dan is 35-years old and a father of three-year-old. Dan's addiction to pornography had reached the state where he would spend one to two hours daily at night with porn. When his wife threatened to leave him, Dan turned towards the therapy and admitted that it was his habit since childhood. Read more about Dan here.
Since Dan had developed this habit from the very start, it is clear that the treatment that is required should also be of the same intensity and level. But would that be easy? And what about all those years that he had spent in this agony of addiction? This is all happening around us and it all starts when we are just teens. We hand our children and teens phones like it is no big deal and they end up trapped in this mess. That's why many parents are moving towards knowing the ways to block porn on Android and iOS.
George is a 49 years old male who has a two-year-old boy. Though he was treated well for his cybersex addiction and alcohol consumption problems four years ago, it all came back crawling into this life one more time. It has disturbed his marital life as well. He also confessed that it was the habit that he adapted in his teens where he accidentally opened up porn websites. There are more similar cases discusses in this article of internet sex addiction.
What could be the core cause of these increasing cases? Very obviously, it is the unguided use of the internet by the teens. When parents leave them alone, ready to watch anything they want, half of the work is done there. And, later those parents are seen worried about what that freedom has cost them.
Though it is not the era where you could just take their mobiles and deprive them of their entertainment. And of course, more importantly, their studies are linked with the internet now. So, no matter what, you have to find other ways to tackle this situation. Fortunately, there are some ways that you can use to handle this situation smartly. Give them the phones and computers, but keep your authority on top. Here is how you can block porn on Android.
Block Porn on Android Using SPIN Safe Browser
SPIN Safe Browser is an app that is available on the Google Play Store. It simply blocks any explicit content with the other age-restricted contents from the search browser. This browser can be set as the default browser of the device. When your kid will search in it, it won't show the restricted content.
How to use:
Download and install the app from the Google Play Store.
Open the browser and set it as the default one.
Now, when your kid searches in it, no porn or such content will appear.
Remember, the content will still appear in other browsers such as Opera, Firefox, and Chrome. You must remove them first.
Enable SafeSearch
SafeSearch filters or blocks explicit content from the Chrome browser. This content includes pornography, nudity, age-restricted, and related content.
How to use:
Go to Google Chrome and open the settings.
In settings, choose the preferences.
Now tap the checkbox next to "Filter explicit content".
Make sure you scroll down and tap on "Save" so that the settings are saved.
Google Family Link
To use the Google Family Link, your kids must be under 13 years old. But if you want to make one for the above age, you can use Family Link for a teenager. The device your kid is using must have Android 7/0 or higher. You must carry a Google Account. And there are certain supported areas for the usage of Google Family Link, make sure you fall under them.
How to use:
Download and install the Google Family Link app from the Google Play Store.
Open the app.
Click on the icon at the bottom of the screen for the three times in order for the settings to appear.
When you get started, there is a small survey about you and your family that you will have to fill in.
Now create a Google Account for the kid.
Connect kid's phone to your Family Link account.
Now you can customize the settings and remotely control your kid's phone.
You can get access to the apps they have installed and block the ones that can increase the opportunity of encountering the wrong content.
You can also enable SafeSearch in the kid's phone through this.
When you are finished, your kid won't be able to access mature content.
SecureTeen – A Parental Control App
SecureTeen is among the best parental control apps that let you monitor your kids' activities and remotely control their devices in no time. You will have 24/7 peace of mind when you use it. You will know when they have used their social media platforms in the wrong manner, or when they have been exposed to the explicit content, and when they have trying to get access to the inappropriate website.
You can also remotely control their devices by blocking and allowing some apps and websites. You can manage their screen time and know their location as well. There is so much to do with this one single amazing app.
How to use:
Download and install the app on both devices (parents as well as kid's device).
Choose the best plan that suits you and then sign up.
Now, make a customized child profile on your phone.
Go to the control panel and start monitoring your child's phone.
You can now customize your child's phone as well.
Parental controls and porn blocking apps can help you a lot in keeping their activities in check and not restricting them at the same time. Since teens don't like to be restricted, this is the best way to provide them the freedom they require along with keeping their internet usage in check. Don't forget to show them that it is for their betterment and that you are doing it for them. Though it is difficult, it is for their better growth only. Happy Parenting!
---