Porn Blocker: Keep Your Kids Away from Inappropriate Content Online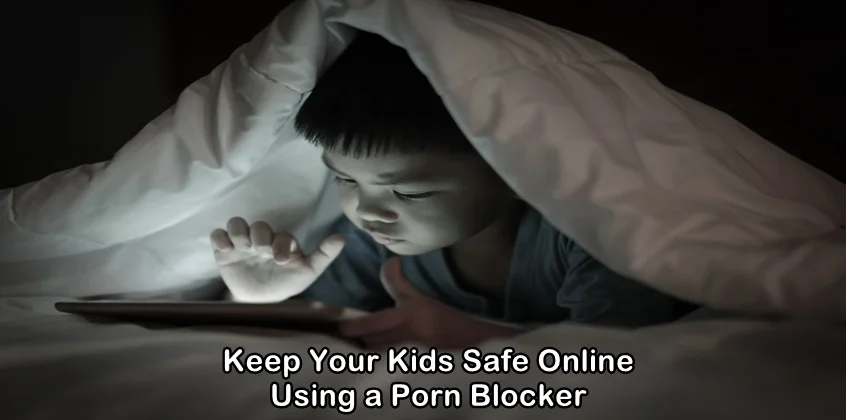 Kids are exposed to several online threats on the internet and pornography is among them. While it may not be possible to completely prevent your kids from accessing pornographic content on the internet, a porn blocker or similar software programs and apps can help you protect and prevent them from adult content.
When children are using the internet, they may not purposely go looking for adult content online. In fact, most of the porn ads pop up accidentally on their screens. In many cases, children are looking for something innocent on the web and end up on a website that they didn't want to open in the first place.
In some cases, children are browsing a familiar website and accidentally uncover an ad that takes them to an adult site which is not restricted by any porn filter. The problem is that most children do not end up taking a quick look at the adult site and then close it. After coming across such explicit content, their curiosity increases and they tend to watch the content.
This is what leads them to develop a habit of watching porn. Once children become addicted to it, they find it difficult to break the pornography cycle at a later point. They look up for other porn sites and access them on a regular basis, becoming addicted to it.
Start Using a Porn/Adult Blocker
It is true that children's safety holds utmost importance for parents. While playing games online, chatting with their friends on social media, and watching playful videos, children may end up visiting porn sites and adult content.
To keep their children safe on the internet and far away from the pornographic material, they turn towards using a porn blocker (which is also sometimes called as an adult blocker) or a block porn software/app.
By filtering pornographic content on your children's device, you can help your child stay away from coming across adult sites on the internet and give them a safe online experience where they can watch harmless content without getting affected.
Get the Best Porn Blocker
There are several good options available on the internet when it comes to using a porn blocker to block porn for your children's safety. Most of the site-blocking programs and apps on the internet claim to filter the adult site on your child's device.
However, not all of them turn out to be effective and genuine. There may be some site-blocking programs that are good for nothing. You should make the selection of a porn blocker program that offers a porn filter feature along with other internet filtering and blocking features.
Some programs are designed in such a way that they can monitor your children's online activities on their computers and mobile devices. Further to that, they also filter out all kinds of adult content on their devices, giving them a safe and harmless internet experience.
SecureTeen is regarded as the best porn blocker because it lets you successfully block porn sites as well as apps including social media and games. By using this block porn software, you can make your child's internet access harmless by filtering out all kinds of bad content including porn, violence, gambling, etc.
SecureTeen not only filters and blocks the adult sites but also monitors, restricts, and controls what your child views on the internet. This software is compatible with every operating platform including Android, iOS, Windows, and Mac.
How Does the Porn Block Tool Work?
One does not need to be a tech-savvy person or a computer expert to use SecureTeen to filter and block the adult sites. In fact, this porn block tool is quite easy to use and operate. First of all, you need to sign up for the SecureTeen service by choosing the pricing plan that best suits your requirements.
In case your child is using an Android device, then you will need physical access to their device for a few minutes to install the SecureTeen app on it. However, if they are using iPhone/iPad, then you will just require the iTunes credentials of that device.
Once the SecureTeen app is installed on the target device, you will have to log into your control panel using the credentials given by the app developer and begin filtering and blocking the porn sites as well as control the device usage and monitor the online activities such as calls, text messages, location tracking, social media accounts, etc.
This is how this porn block tool works. Keep in mind that physical access for Android devices is required whereas, for iPhone devices, only iTunes credentials are needed.
Porn Control in the Best Way Possible
Apart from using SecureTeen as a porn blocker program, you may also consider taking some free steps to keep your children safe from pornography. In fact, you can adopt porn control in the best way possible by using some other ways other than SecureTeen.
Turning off Google SafeSearch will prevent your kids from opening the adult sites on their web browser. Once the SafeSearch option has been turned on and explicit results have been filtered out, your kids will not be able to access any of the porn sites.
iPhone and iPad users can also use built-in option known as Screen Time. You can either put restrictions on your child's devices by putting a lock on them with a passcode or manage their device remotely through Apple's Family Sharing feature, which is similar to other parental control products.
Last but not the least, you can ask your Internet Service Provider (ISP) to apply filters and other restrictions on your TV channels or the internet, depending on the type of service your child is using.
The majority of the service providers you pay to bring to you your TV cable or internet connection may provide content filters, parental controls, or other screen-time management features that help with porn control and limit exposure to pornography. Xfinity and Verizon are a few examples that offer parental controls for a monthly fee.
---