Stop Your Kids from Watching Porn with an Adult Blocker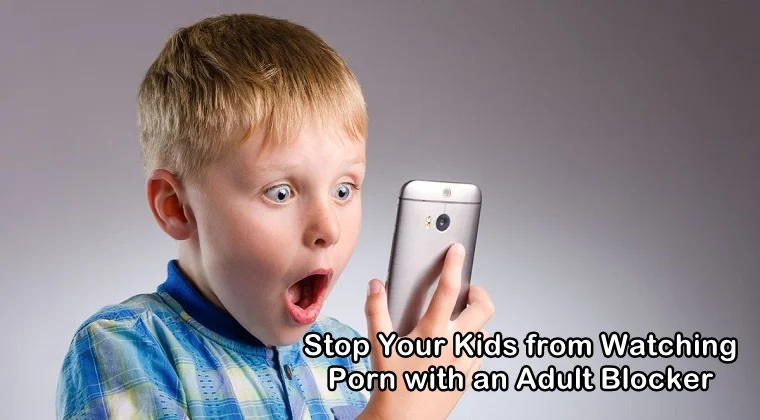 Porn is everywhere on the internet. Stumbling upon porn online is inevitable, both for adults and children. While for adults watching porn may not be a big deal, it surely is when it comes to children and young teenagers.
Children come across porn while surfing on the internet. Porn content is displayed to them either in the form of ads or pop-ups. Some kids accidentally stumble upon porn while using the internet whereas some look for it on purpose. The best way to stop your child from watching porn is by using an adult blocker.
How Porn Affects Children
Parents who store porn videos or images on their computers or mobile phones should stop doing that because they have no idea when their kid can hold their device for playing a game and accidentally come across pornographic content.
Most young teenagers become curious about sex as soon as they step into adulthood. Since they feel uncomfortable while talking about sex with their parents or teachers, they take the matter into their own hands and start looking for answers on the internet.
Unfortunately, the internet is a dark place, especially when it comes to inappropriate content. Instead of providing with useful information, the internet welcomes children with unnecessary and explicit content, distorting the concept of sex and physical relationships.
When children get exposed to pornography at a tender age with no previous knowledge about this topic, they tend to mix the concepts of love and lust. For them, the real meaning of a relationship is lost. They also lose respect for women because they see them as sex symbols.
Pornography can have devastating effects on a child's mind. When they see inappropriate images and videos online, they have a desire of doing the same. This is why there is a rampant of cases revolving around rape and teen pregnancies.
When children watch porn, they feel like doing the same with their partners. They may even force their partners to try the same physical acts they have seen others doing in a porn video. This can disturb the dynamics of a relationship and also lead them to a dark future.
Therefore, it is very important that parents take all necessary measures to keep their children protected from porn on the internet. Adult blockers or porn blockers can be used for this purpose.
Using an Adult Blocker
If you are a concerned parent worried about your kid watching porn on the internet, we are sure you must have heard about an adult blocker already. An adult blocker is typically a porn blocker – a computer program or a mobile application designed to block and filter porn sites on your child's device.
SecureTeen is used by millions of users as a porn blocker app as it helps restrict your child from watching adult content on their devices. Essentially, SecureTeen is a parental control app and filtering and blocking porn is one of its main features.
This parental control app protects your children from all online threats lurking on the internet such as pornography, sexting, pedophilia, cyberbullying, and violence. Protection from these growing online dangers is important if you want your child to feel safe while browsing the internet.
Children are using their mobile devices and computers even more than adults these days. So, to make the internet a safe place for them, it is important to keep 24x7 surveillance on their online activity. This can only be done by using an effective and reliable parental control app like SecureTeen.
SecureTeen is a powerful and advanced parental control app as it lets you monitor your child's online activity all round the clock to make sure they stay safe from online threats on the internet. This parental control app also acts as an effective and reliable porn blocker as it prevents your kids from watching adult content on the internet.
Besides being an effective adult blocker, SecureTeen is capable of providing with other monitoring features as well. With the help of SecureTeen, you can monitor your child's incoming and outgoing calls, emails, and text messages.
You can track your child's GPS location even if GPS on their cell phone is not active. This helps you find out where your child goes and whom they meet with. Since children are using social media and instant messaging apps excessively these days, you can also get to monitor them by using SecureTeen.
Other features like keylogging and Gmail logging are also offered by SecureTeen. Further to that, you can also spy on your child's web browsing history, photos, videos, and even contacts stored on their device. Similarly, you can also see the list of all the apps installed on their mobile device.
How to Block Porn Sites with SecureTeen
To begin using SecureTeen as an adult blocker, you need to first sign up for the service and choose the pricing plan that suits you the best. After you have created an account, you need to download and install the app on your child's device.
If you want to monitor your child's iPhone/iPad device, then you need to obtain iTunes credentials of their device. For all the other devices, including Android, you need to get physical access to their device in order to install the SecureTeen app. This process will only take a few minutes.
Once the app has been installed on their device successfully, you can now log into your SecureTeen user account and start managing and controlling your child's device usage. You can filter and block the sites you do not want your child to visit.
Besides filtering and blocking porn sites, you can also monitor their cell phone's activities such as text messages, phone calls, GPS location, social media accounts, web browsing, etc.
In the era of the digital world, it has become necessary to keep an eye on your child's online activity because we never know what our child is doing on the internet without our knowledge. To save your child from impending danger, parents must monitor their online activity and enable parental control apps like SecureTeen on their devices.
---