How to Block Porn on Your Phone? Find Out Here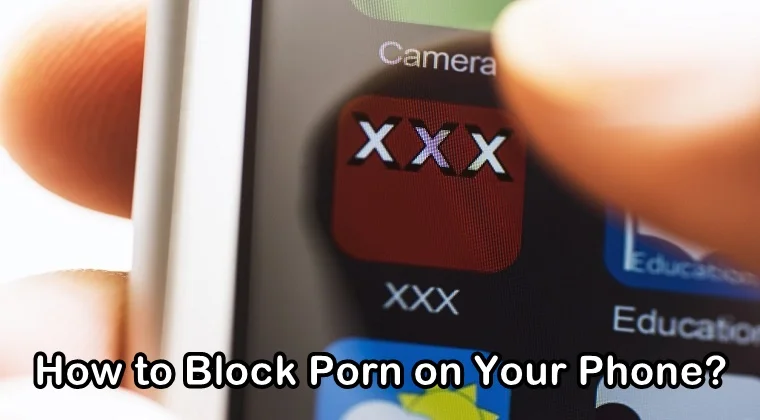 Not many parents have allowed children to use digital devices, especially cellphones. They feel handing over cellphones to them at a tender age may not be a great idea as it can allow them to have a private space in the digital world which most parents wouldn't want.
Most children, especially young ones, use their parents' cell phones to access the internet, search for their favorite videos on YouTube, or play online games. Parents do not mind giving away their cellphones to their kids for some time. What they are not aware of is that children can be exposed to several online risks even in that short period.
By online risks we mean children stumbling upon porn content by mistake and becoming overwhelmed by the shocking images and videos. Porn makes them question their own identity and puts them under a deep cloud of thoughts.
Parents need to be vigilant here. They can stop their children from watching porn either by accident or by choice. When they filter and block porn sites and apps on their phones, their children won't be able to explore such inappropriate content.
In this post, we will learn how parents can prevent their children from viewing sexually explicit content and how they can enforce limits and rules on their internet usage without upsetting them.
How to Block Porn on Your Phone
Let us find out how parents can block porn on their phones so that children cannot come across inappropriate content while using their parent's devices.
Delete Inappropriate Content from Your Phone
Parents are a digital role model for their kids. Whatever they see and do in the digital world, kids tend to follow the same. Because they are adults, they keep porn videos stored on their devices without knowing the same content can be viewed by kids.
The best way to ensure your kids do not find any porn videos on your device is to delete such stuff from it. If you have stored any inappropriate content on your device whether, in the form of photos, videos, or memes, it's time for you to remove them. This will decrease the chance of your kids coming across porn on your phone and you can hand over your device to them without getting worried.
Use Screen Time Feature (for iOS Devices)
For those using iOS devices, they can use the Screen Time feature provided by Apple on all the iOS devices. You can decide how you want to turn on the settings. You have two options to get this done: you can either restrict your devices and lock them with a passcode that your kids won't be able to guess or you can control your phone remotely through Apple's Family Sharing feature that is just like the other parental controls.
Here's how you can block porn on your iOS device. Open Settings, scroll down and tap Screen Time. Now you need to select Content & Privacy Restrictions and toggle it on. You need to go through each setting to decide what you want to allow and what you want to restrict for your child. To block porn, you need to open the Content Restrictions section and turn off all inappropriate content for all media, including online content.
You can also protect the settings with a passcode. Open Screen Time in Settings, tap Use Screen time Passcode and then type a passcode your kid won't be able to know or guess.
You can also enable the Family Sharing settings on your device. To do that, open Settings once again, tap your name, scroll down a bit until you come across Family Sharing. Follow all the instructions to add a family member. Once it's done, you get to control all of your device's Screen Time features from your phone.
Use Parental Control Apps
Another best way to block porn immediately is to install an effective and reliable parental control app on your child's phone. In our view, SecureTeen is the best parental control app to block porn on the phone and prevent your child from viewing it.
You could also explore the other options available in the market and see which one works best for you. The choice is completely up to you but SecureTeen is really up to the mark when it comes to blocking and filtering inappropriate content on the internet.
No matter which parental control app you opt for, do not forget to review all the features offered by it. Make sure it can block specific sites and apps, on your phone and sends you timely alerts whenever your child tries to search for certain phrases such as "sex" or "porn" on the web browser or app store.
Enable Google SafeSearch
While deleting porn stuff from your phone, installing parental controls on your child's device may work for you in preventing your child from porn, enabling privacy settings on the Google Chrome browser should also help you accomplish your goal.
You can enable Google SafeSearch on your phone or your child's phone and prevent your child from watching inappropriate content on the internet. Now, for this, you need to search your search engine to Google Chrome first. Make sure this web browser has been set as your default search engine.
On your mobile device, open the Google app, tap on the gear icon to open Settings, scroll down, and then tap on Search Settings. Under SafeSearch filters, you need to tap "Filter explicit results". Always check the Google app or preferences to ensure your child has not turned off SafeSearch. By enabling this setting, you can prevent your child from coming across adult content.
You can also learn more about how to block porn on Google for your children's safety but the steps we have mentioned above would suffice.
Most of the above-mentioned ways to block porn on your kid's devices were also suggested by Common Sense Media in an article on Huff Post. With the right guidance and use of parental controls, we are sure you can make your kids learn how to use the digital devices sensibly and how to keep themselves protected from rising online risks.
Just a simple tip: before adopting any of the above-mentioned ways to stop your kid from viewing porn, it is better that you communicate with them and tell about the hazardous effects of watching porn at a tender age.
---