How to Block Porn on Google for Your Children's Safety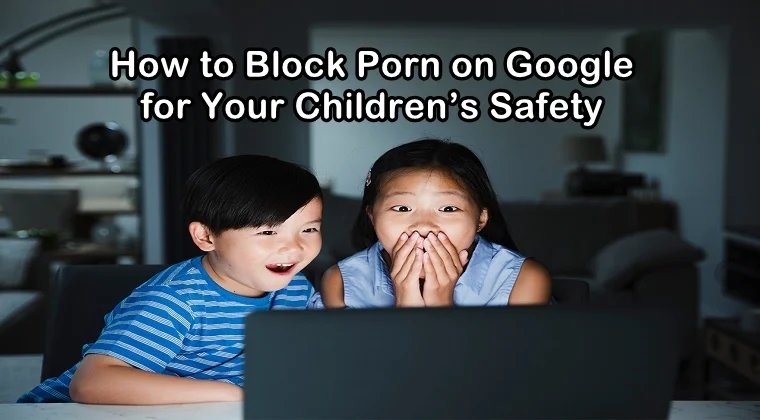 Keeping your kids off of inappropriate content on the internet is a difficult task. In fact, it is one of the most common digital parenting problems nowadays. You think your child is safer online than real life because they are right in front of you. However, you can never know what dangers they are exposed to in the world of the internet.
Pornography is among the most common internet perils for our kids right now. They are exposed to pornography either by accident or by choice while they are using the internet on their devices. As soon as they open a search result on Google, an unknown link will pop on their screens, containing a pornography image or GIF. So what do we do to keep our kids away from porn? Let's learn how to block porn on Google to keep our children safe online.
If you are a parent and you have handed over a cellphone or any other digital gadget to your child, you should know that they can easily come across pornographic content on their devices, given they have free internet access.
The majority of the parents get their children cellphones as soon as they enter adulthood. Some of them have even handed over phones to their adolescents due to their persistent requests. Handing cell phones to your children at a younger age is not a bad idea but make sure you put some restrictions on them.
Most of the apps in the Google Play Store, Movies, and Google search can pop up images or videos you do not want your child to see. Even certain keywords like "small" can bring up images and sites on the first page of the Google search that might not be appropriate for your child.
But you do not need to worry about your child coming across such content. Thankfully, we can restrict adult content and block porn sites on Google by enabling some privacy settings and installing parental control software.
How to Block Porn on Google
Several ways can be used to block porn sites on Google. By blocking porn sites on Google, your child won't be able to access adult content and stay away from it. To make things easier for you, we have listed some of the best and reliable methods to block porn sites in Google Chrome.
Turn on Google SafeSearch
Turning on Google Safesearch feature is one of the easiest ways to block porn on your child's Google Chrome browser. SafeSearch is a feature that is already present by default in the Chrome browser but needs to be activated to bring it into use.
This feature blocks inappropriate or sexually explicit photos and videos from the Google search by adding a layer of protection against the harmful content. As soon as you turn on Google SafeSearch, it will begin blocking inappropriate images, videos, and sites while browsing the internet and the Play Store. Here's how you can turn on Google SafeSearch:
Step 1: First of all, you need to set the search engine on your child's device to Google Chrome and make it default. On your child's device, click or tap the three dots icon either at the top or bottom of the screen.
Step 2: Now you will enable SafeSearch. On your kid's cellphone, open the Google app. Tap the gear icon (the settings icon), scroll down a bit, tap Search Settings and then tap "Filter explicit results" under the SafeSearch filters section. On your child's PC, you need to head to www.google.com and click Settings in the bottom-right corner of the screen. Now, click on Search Settings, click Turn on SafeSearch and then Lock SafeSearch.
Step 3: Make sure that you perform steps 1 and 2 for all the devices your child is using. Regularly check all the devices as well as the Google app or preferences section to ensure the SafeSearch feature hasn't been disabled by your child.
Apply Restrictions to Google Chrome
You can also add restrictions on Google Chrome if you do not wish to download any third-party apps to block porn sites. By applying restrictions on Google Chrome, you can simply block porn sites on your kid's browser. Just manually add the URLs of all the websites you want to block. Here's what you need to do:
Step 1: Open Google Chrome on your kid's device and open the Settings section by tapping the three-dot icon in the top-right corner of the screen. Now open Advanced > System > Open Proxy Settings.
Step 2: As soon as you have opened the Internet Properties interface, you need to head to the tap of Security. Here, choose Restriction Sites and then tap "Sites."
Step 3: Once you tap "Sites," a new Restricted Sites pop-up will open. Now, you just need to provide the URLs of all the porn sites manually that you want to block. Tap the option "Add."
Step 4: Last but not least, save all the changes you have made and reopen Google Chrome on your child's device. You are now done blocking all the porn sites.
Use Google Play Restrictions
You can also turn on the restrictions on Google Play on your child's Android device to prevent them from downloading any inappropriate apps, games, and other web content that is not suitable for their age. Here's how you can apply restrictions on Google Play:
Step 1: Open the Google Play app on your child's mobile phone/tablet.
Step 2: Now open "Settings" by tapping the menu sign in the upper left corner of the screen. From there, you need to select "Parental controls."
Step 3: Turn on the "Parental controls" feature. After that, you will be asked to generate PIN and block the content you do not want your child to see. This PIN will let you change parental control settings for that account. Remember, never tell PIN code to your child. You can start setting restrictions based on age rates for each category.
Install Parental Control Software
Sometimes, using the default methods offered by Google can be ineffective. Children may get around the SafeSearch feature or change the restrictions on Google Chrome or Play without you knowing and access the adult content on the internet. So, what needs to be done to protect your children from porn online?
The answer is SecureTeen—a parental control solution provider that specializes in filtering, blocking, controlling, and managing what your child does on the internet. This parental control software helps you block porn sites on their devices and at the same time, provides monitoring services.
You can track their live location, phone calls, text messages, social media accounts, as well as online browsing with the help of this parental control software. You can be anywhere and still can remotely monitor their online activity and control what they should be seeing on their devices.
---