How to Block Porn on Internet Using Different Methods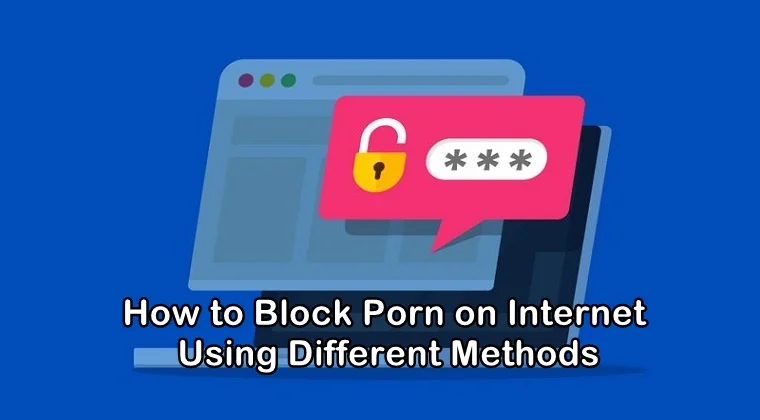 It is a pity that the world of the internet is laden with pornographic content. No matter which site you open, which app you use, or which video you watch online, you are more likely to encounter inappropriate content in the form of pop-ups and ads.
This not only takes you aback but also overwhelms the younger generation—children and teens. Unfortunately, porn is all over the internet and it is impossible to get rid of it completely. However, with the help of a few tech tricks and methods, parents can keep their kids off of porn content online. In this post, we will discuss how to block porn on internet using different methods.
Only using tech tools and methods is not going to help you prevent your kids from coming across porn on the internet. The use of tech tools to limit inappropriate content will only be successful when combined with conversations that express your thoughts and value about love and relationships.
Porn can have devastating effects on a child's mind. Unrealistic depictions of sex can deviate children's and teens' views about love, sexuality, and relationships. An article featured on the Child Mind Institute, Dr. Alan Ravitz discusses how pornography is dangerous for teens.
How to Block Porn on Internet
Blocking porn sites on the internet has become mandatory for parents. No parent would want their kid to stumble across porn on the internet and get overwhelmed by looking at it. While you may not be able to entirely get rid of porn on the internet as it is present everywhere, you can still adopt certain measures to keep your kids away from the reach of pornographic material and other inappropriate content.
Caroline Knorr has discussed five ways to block porn on kids' devices on HuffPost. Essentially, we will be discussing the same methods as described by Caroline but will provide you with a better insight into how you can use them to block porn on the internet.
Below, we have discussed some effective ways to prevent your children from the dangerous effects of pornography.
Enable Safe Search Mode on Search Engines
Enabling Safe Search mode on search engines like Google and Bing, you can restrict access to the results featuring pornographic images. Safe Search mode is a feature that is present on every web browser but needs to be turned on manually.
To turn on the Safe Search mode on Google browser, open https://www.google.com/preferences. Under the SafeSearch Filters section, you will find the option of Turn on SafeSearch. Click on the checkbox to enable the feature.
All the inappropriate and sexually-explicit images from your Google Search results will be blocked by enabling this feature. In the same way, you can also enable the Safe Search mode on other search engines as well.
Enable Parental Controls on Mobile Devices
Almost all the devices and operating systems have default parental control features to prevent your children from tweaking any settings and removing the internet filters that you have enabled on their devices.
We highly recommend turning on the parental controls on their devices so you can restrict access to adult sites as well as apps that may not be appropriate for your children.
For instance, if you want to enable parental controls on your child's iOS device, you will first go the Settings of the device, open General and then Restrictions. Here you will filter the content that you do not want your child to see. On the same page, you can scroll down to find Allowed Content and make the following recommended settings:
Movies: PG-13
TV Shows: TV-14
Books: Restrict explicit content
Apps: 12+
Siri: Explicit language filtered
Websites: Restrict adult content
Install Parental Control App like SecureTeen
Enabling default parental controls on a device or operating system is one thing, installing a parental control app on the device is another. You build an extra wall of protection by installing a parental control app on your child's device.
SecureTeen is known to be the best porn blocker software as it helps you restrict access to porn content and also filters the sites you deem inappropriate with its effective web filtering technology. Other than that, it helps you with screen time management, setting time limits on certain apps and sites.
What's more, you can also constantly keep tabs on your child's online activity and monitor every move that they make in the digital world to keep them secure from the possible online dangers.
To deploy the parental control app on your child's device, you first need to install the SecureTeen app on their device, customize the user rules or settings and then start monitoring their online activity.
Scan Web Browsing Activity
It is recommended to scan your child's web browsing activity even after you have enabled parental controls or installed a parental control app on their device. You must do spot checks every day to see what your kids are doing online.
By scanning their web browsing activity, you can find out what sites they are visiting. If you find them visiting any inappropriate sites, you can immediately take action. Older kids and teens may learn how to clear their web browsing history every now and then but younger kids are not aware of it so you can scan their browsing history easily.
Some devices such as Mac allows parents to prevent their children from clearing their web browsing history.
Monitor their Social Media Activity
Various social media platforms can expose your child to inappropriate content. They may be chatting with their friends on Facebook and exchanging inappropriate messages in the form of sexting and sexually explicit images and videos.
Similarly, they may be involved in sexting on other instant messaging platforms like WhatsApp, Kik, and Snapchat. It is recommended to regularly monitor their social media messages to learn who they are communicating with. Several other methods can also be used to learn how to block porn on your computer.
As soon as you find something unsuitable, talk to them about it immediately and stop them from doing such behavior. Monitoring their social media activity will help you catch your kids breaking any rules and help them stay safe on social media platforms.
And finally, keep the doors of communication open to them. Talk to them and ask them if they are facing any problems on the internet. None of the tech tools and tricks are going to work if you are not around them to watch what they are doing on the internet and enforcing the rules.
Explain to them about the online dangers and how they can keep themselves safe online. Benefit from the pros of the internet together and help create a safe online environment for your family.
---