Why Do You Need an SMS Tracker for Your Teens?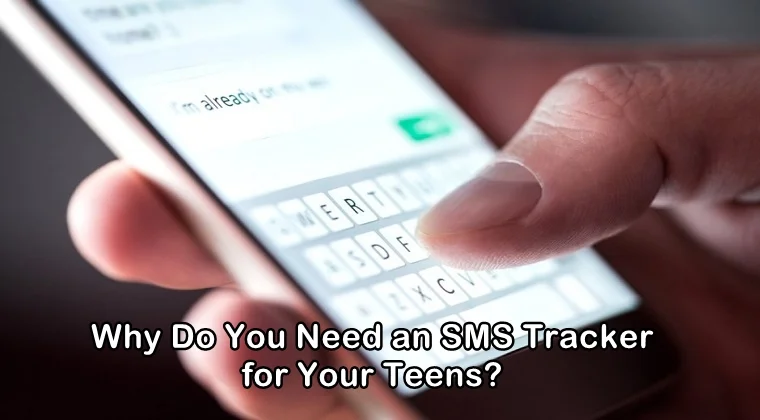 SMS stands for short message services and texts are the best example we have for this. In this chaotic and fast-moving world, what could be better than communicating through lesser words and fast service? Almost everyone nowadays prefers to have their communications done through SMS. Especially among teens, the most common forms of communication are texts, tweets, and DMs. If this is all about communication, why do you need to use an SMS tracker? Why would you need to monitor their SMSs and calls even if you think everything is fine?
Have you ever heard your teen saying they slide into DM of someone? Well, it doesn't simply mean sending them a text, it is a phrase used for a romantic type of texting. Almost every teenager owns a smartphone now, and these types of inappropriate conversations are more common than ever now. Of course, you might not be aware of the type of text your kid is sending to someone even if he/she is sitting in front of you. But, if you could use a monitoring app with the function of SMS tracker, you can understand their intent and where they are going with their conversations.
Social Media and SMS Tracker
Social media is right under the noses and we are ignoring it. Our kids ask for the smartphone to enjoy the perks of social media. They might have seen their friends using it and it amuses them so much. With all the entertainment and fun available on social media, it is not safe for the kids. You might not realize it now but once it causes the damage, you will regret it. Kids have even committed suicides and their parents were still not aware of the reason.
Most of the damage comes from social media conversations. Yes, communication is the base of most of the issues that are raised on social media and real life. Kids do terrible things and share inappropriate things when they are chatting with someone on social media. Since they are innocent, they might not realize what they are getting themselves into.
Cyberbullying
Cyberbullying usually starts from the messages. Cases have been reported where kids have tried to hurt themselves because of the inappropriate and humiliating texts they receive from different people on their social media accounts. This usually happens when someone plots against a specific kid and gathers other people for the same purpose. If you are not monitoring your kid's text messages, you might be missing out on these things.
Predators
Yes, you read it right. Online predators are out there to get your kid to do terrible things. But first, they earn your kid's trust. This all happens in the chat where strangers try to be nice to the kids, making them feel important and loved, trying to earn their trust in every way possible. Once it is done, they ask your kids to do things for them which can include sharing their personal information like home address, credit card information, etc. If you are monitoring their conversations, you can keep an eye on such doubtful chats and do something not to let anything bad happen.
Sexting
Apart from being bullied and trapped in the chats, there is a big danger known as sexting. Sexting is now very common among teens and they seldom know what danger they are putting themselves into. Most of the kids turn to social media to search for relationships, love and care that they didn't get in real life. When they meet anyone, they are more than happy to take their relationship to other levels which most of the time includes sexting. Since they don't meet each other, they send sexual and inappropriate text, pictures, and videos to each other.
The fact that those pictures and videos are uploaded on the internet and aren't going anywhere is not the only danger there is. They might break up in the future, and the person that they shared their stuff with can use that stuff against them for revenge or any other purpose. Kids might not understand it at the moment, but you need to monitor social media conversations as well to make sure they are safe. Social media is the base of many issues and dangers, so keep an eye on social media to know where your kids are headed.
How to Use an SMS Tracker?
If you want to keep a tab on your kid's chat and take care of them, you must be very careful with how you are pursuing the option. Here are some of the tips to monitor them successfully:
Communicate with them. Share your experiences with them and let them share theirs. You need to show them that you understand them and you know what they have been going through emotionally. The more you let them open up, the more they can trust you and confide in you. This is what you want. You want them to feel that you care for them and they can come to you no matter what happens.
Use a good parental control software to pursue SMS tracker. SecureTeen is one of the best parental control app that not only lets you monitor their social media accounts with chats and other things, you can also track their SMS and calls. It gives you multiple options to take care of your kids. You can also track their location and know how much time is spending out of the house.
With SecureTeen, you get multiple opportunities to take care of your kids but you must earn their trust first. Don't go all authoritative on them and don't suffocate them. They need to be able to share their worried with you, come to you for help, and trust you with their secrets. Show them they can confide in you. The more they trust you, the better they will feel about sharing their secrets with you and they will also understand why you need to monitor them.
---