Online Predators and the Use of iPhone SMS Tracker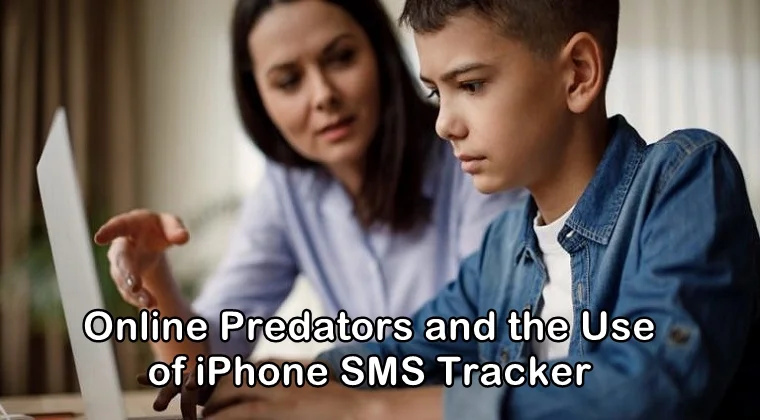 When raising tweens and teens, all you can think about is if they are doing everything in the safe zone. Especially when they are handed over their smartphones, it rings the bells for most of the parents and that's when they start getting worried because with smartphones come a lot of doubts. Are they sharing too much? Do they know these people? Are they being safe? Do they need to be protected? These questions come to almost every parent's mind.
Out of all the dangers, online predating is prevailing these days with speed. Children don't get the signs of someone using them and where are their conversations leading unless they are told. So, this is the time that they know about what could they face online and how should they handle this. Parents can only do this with proper guidance and respect. Kids of this era need to feel that they are respected and their freedom isn't going anywhere. But still, the use of Android and iPhone SMS tracker is a must to make sure they are safe.
How Should Parents Deal with Online Predating?
Online predating is far worse than it sounds. It doesn't stay online and it can do a lot of damage to your kids. So, the first and the most important step is to teach your children about it. The more you educate them, the better they can deal with this stuff. Also, they will trust you. So, here are some of the tips that can be used to teach your kids about online predating:
·Tell Them What Online Predating Is
Kids who feel lonely and have low self-esteem are mostly the target of online predating. Strangers are lurking around social media looking for the kids who need love and care and feel alone. They trap them in their kindness by pretending to be the most understanding and helping. Once they have earned their trust, they make them do things that are highly inappropriate or worse, they harass them.
So, teach your kids all of this and tell them how they should handle strangers online. Predators are not adults always, sometimes they are teenagers. Tell your child stories about predators and teens so that they can know that it is happening around them. The more you relate this to reality, the better they can understand this.
·Discuss Risky Relationships with Them
Talking about relationships is a must when they grow. No matter how young you think they are, you never know what they will be getting themselves into. Especially when it comes to relationships, they don't care about anything but only about the fact that they are receiving love. So, talk to them about what a healthy relationship looks like and when can it become toxic and dangerous. If there are nude photos, drugs, and other inappropriate things involved, then it is not a healthy relationship and they should get out of it as soon as possible. Make sure that they know that being under the pressure of doing something that makes you uncomfortable in a relationship is a sign of being risky.
·Online Flirting
Talk about how flirting might seem exciting at first but how it escalates to being dangerous in no time. Flirting is just like talking dirty to a stranger but it might feel like fun for many kids. So, point it out when it should be stopped or avoided such as when they ask about what you are wearing, discuss sex stuff, the force on sharing nude photos for fun, etc. These are all alarming behaviors and the kids need to step away at this moment. Tell them in detail about what behavior is acceptable and what is not, and when they should talk to an adult right away.
·Offline Safety Rules
Kids are desperate and emotional, so they become close to another person in no time. They become close enough that they agree on meeting in person. Talk to them about the risks of meeting someone they only know online and how it can put them in danger. Moreover, it should be compulsory to inform an adult before taking such a step. Also, to ensure offline safety, kids shouldn't post their phone numbers, home addresses, and other personal information online. Predators can reach them through this information.
·Sharing with You
Where you are guiding them about everything, you should never expect them to be the perfect kid all at once. Show them that mistakes happen and they can come to you with anything. Don't ever give them the idea that you wouldn't forgive them if they don't abide by the rules. Show them that they can come to you no matter what happens and that you are always there for them to guide and help them if they get in trouble.
Should Parents Use a Monitoring App and iPhone SMS Tracker?
No one wants to spy on their kids but when you think that your kids might be involved in risky relationships or showing risky behaviors, you need to know what is going on. It is high time that you keep a close eye on them and make sure that they are safe. For this purpose, you have to use parental control and monitoring app so that you can know firsthand about the wrong things that are happening. This is your best option to keep an eye on them and to never let them fall. Though it seems like a small thing, when they fall into such traps, there are worse consequences.
When you are looking for a monitoring app, SecureTeen is the one for you. It is one of the best parental control apps that help you keep an eye on your kids, help you check upon them, and make sure they are on the right track. Download and install this amazing parental control software right now and do your duty keenly. This will help you keep them safe and protected from online predators and other dangers.
---