Why You Need to Set a Porn Filter on Your Kid's Device?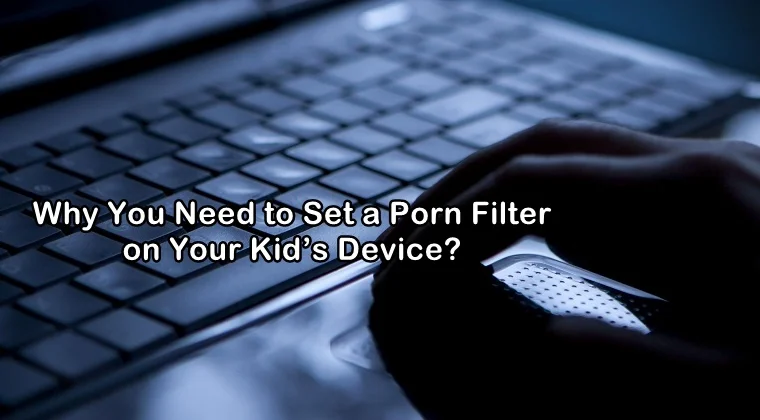 Our children are prone to watching porn on the internet as the adult content is pretty much everywhere on the web and can be easily accessed. Porn is indeed harmful to our children and we must do everything to keep them away from such content. Let us understand why we need to set a porn filter on our children's devices.
We would like to believe that the internet is a safe place for our children. When our kids are using social media platforms or watching videos on YouTube, we think they are completely safe. However, that's not true. Despite many of our views, we cannot regard the internet a safe place for our children to be roaming around on their own.
The presence of pornographic content and sexual predators seem to be growing on the internet. In fact, porn videos can be found at every nook and corner of the internet, waiting to hook your child into its vicious trap.
It is becoming increasingly imperative for parents to find out what their children and teenagers are doing on the internet and on what activities they are spending their time on. Being parents, you must also know how to talk about this sensitive topic with your children.
In this post, we will explore what kind of content your children will be exposed to on the internet and the consequences of that exposure in their lives.
The Pornography Statistics of Children
Let us take a look at the statistics. You need to believe these numbers because they do not lie. Young boys have a 90% chance of getting exposed to pornographic content before they turn 18 years old. On the other hand, girls will have a 60% chance.
To put it into simpler words, 9 out of 10 boys and 6 out of 10 girls will be exposed to pornography before they turn 18 and become fully mature. It is also reported that 1 out of every 7 teenagers will be exposed to an online sexual advance.
There's more. In a recent study, it was revealed that half of the boys and one-third of the girls have been exposed to pornography in some way or the other before they were turned 13. For the boys, almost a third will be exposed to porn before they turn 10 years of age. The disconcerting part of these statistics is that most of the exposure is unsolicited and unwarranted.
We are sure that the above pornography statistics for children will be enough to convince you that children are exposed to porn at a tender age.
Where and How Children Are Being Exposed to Pornography?
There are two primary ways in which children will be exposed to pornography on the internet: either by stumbling upon it by accident or by hearing about porn from a friend or family member. In case you have installed a parental control solution on their device, you can block porn easily and prevent your kids from watching it.
Most children often stumble upon porn because they have made a Google search that has led them to porn content or they have accidentally opened a site featuring sexually explicit content. Many children also store porn videos on their device. However, the chances of being exposed to porn by a wrong Google search is more common than the other.
Most children open Google to look up for a movie or a TV show (or any other thing) and start going through the results to which they come across a link to a pornography site, image, or video.
Email is another platform where your children can often stumble upon adult content. If you happen to take a look at your spam emails, you will be shocked to see the number of emails you have received containing explicit content.
If your child is receiving a lot of junk emails, there is a high chance that they will end up opening their junk emails, clicking the link out of curiosity, and becoming exposed to pornographic content.
The other convenient way for your child to come across porn is when they get to know about it through a close friend or family member. It is a pretty simple process. Suppose your child's friend or sibling is already watching porn and when they have been found out doing that, they end up showing porn to your child. Children usually start watching porn under the influence of their peers because they want to prove to others how cool they are.
Last but not least, if you have a search history on your web browser that contains pornographic content it will make a lot easier for your child to have access to such content when they are using your device. What's more, in case you have downloaded any porn videos on your computer, there is a high chance that your child will find them on your computer and watch them.
Come to think of it. Your child sees you as their role model and if they find such content on your device, they will most likely want to follow your actions. Therefore, stumbling upon porn content on your device will make your child want to watch them as well.
Effects of Being Exposed to Pornography
Exposure to pornography can have severe effects on a child's mental growth and development. Porn can disrupt their views on love and relationships. They may be not able to differentiate between the desire for love and lust.
While watching porn, they can also have the wrong image of women. This can make them disrespect women as they grow up. Male children tend to objectify women or view them as an object rather than an individual. When they watch porn, they come to believe that women enjoy sex and therefore, they may also be triggered to have a sexual relationship with a woman.
Extreme exposure to pornography can also cultivate a culture of men who do not take rape seriously. For them, a relationship is only good if it allows them to be physically involved with their partner. They will start devaluing real commitments like marriage and will consider it non-important.
---