Here's How You Can Enable Porn Block on Your Child's Device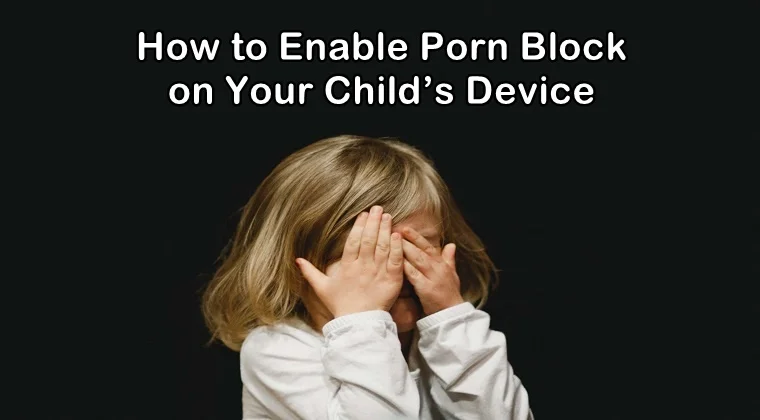 It is inevitable to escape the porn content on the internet. There's a large amount of pornographic content available online. Thousands of porn websites are up there, catching your child's attention. For your children's safety, parents must enable porn block on their devices so they can stay away from them.
Child porn refers to the flood of pornographic material found on the internet. The amount of porn sites and inappropriate content is shockingly so big that it may seem impossible to keep your children from its reach. However, with a few tips and tricks, you can protect your children from porn sites on the internet.
No doubt that keeping your children far away from the reach of sexually explicit, pornographic or otherwise inappropriate content on the internet may seem like an impossible task. This is because children will be exposed to such content one way or the other when they are using their devices.
To stop your children from getting exposed to porn sites, it is important that you block and filter them. We have been able to identify some important tips to help you block porn sites and inappropriate content on the internet. These tips can be identified as essential tools to significantly reduce the risks of your kids coming across pornography on the internet.
Below, let us get to know about some essential tips to help block porn sites on your child's device and prevent them from stumbling upon them every now and then.
Set Up Parental Controls to Block Porn
You can also set up parental controls on your child's device to keep them away from the porn sites. Parental controls come in the form of a mobile application or computer software, helping you filter and block adult content that is deemed unsuitable for your kids.
Specific filters can be set to block porn sites on your child's device with the help of parental controls. For instance, SecureTeen is a parental control app and the best porn blocker that lets you block porn sites on your child's device.
With the help of the same porn blocker, you can also filter other inappropriate content on the internet such as crime, hate, and violence. The appropriateness of some types of content tends to change as your children grow in age and become mature with time.
You must remember that not every type of content your child sees online may be appropriate for them. To enable parental controls on your child's device, you must look for a parental control app that best suits your needs and also offers effective parental control solution. Do not forget to check out the users' reviews.
Enable Porn Block with 'Safe Search" Mode
This is the first thing you can do to block porn sites on your child's web browser. Safe Search mode is an inbuilt parental control feature offered by Google Chrome. The Chrome browser on your child's device must be set to the "safe search" mode to block porn sites.
All you need to do is grab your child's device (laptop or mobile phone), open https://www.google.com/familysafety/. This is a porn blocker tool offered by Google Chrome that lets you block porn sites on the web browser.
If your child is using Bing as their web browser, you can head to https://www.bing.com/preferences.aspx. For any other web browser or search engine, you can open its safety and privacy settings and find this feature. You can also enable "safe search" mode on online video streaming sites like YouTube or other similar platforms.
Block Porn Sites on the Internet
Infamous porn sites like PornHub is one of the oldest and largest porn sites on the internet. For many years, this site has remained the central hub for featuring porn videos. Parents must ensure their kids do not come across this site as it only features pornographic material.
This site and other popular porn sites need to be filtered out and blocked on your kid's web browser so they do not stumble upon this site. There are several porn sites available online that features sexually explicit content. Therefore, parents must block these adult sites before children come across them.
You can use professional and reliable porn blocking software like SecureTeen to filter out and block all the popular porn sites running on the internet. Porn content can be threatening and dangerous to your child's young mind and may lead them to develop various mental and psychological problems.
Using Family Safety Tools Offered by Your PC
There is another way to block pornographic content on the internet. You can also use the family safety tools provided by your computer or any other device's operating system. If you are wondering whether or not your child's operating system offers family safety tools then you do not need to worry.
Both Windows and Mac operating systems come with family safety tools that help you block porn sites on your child's device.
Track Your Child's Web Browsing Activity
Periodically, you must track your child's web browsing activity including their web browsing history. Some teens are clever enough to use keywords or phrases on their browsers in order to get around the filters attached to pornography on the internet. The most commonly used keywords or phrases are love-making, breastfeeding, and childbirth.
Apart from these commonly used phrases, children also look up for slang terms on the internet so they can come across porn content. Slang terms like "walking the dog" which is a slang term used for sex is being used by children. When children use these slang terms on the internet, it is obvious to know that no filters are attached to them.
Therefore, if you ever find such odd web searches or phrases on your child's web browsing history, then you need to make sure that you take a look at these sites. If you find them containing adult content then you can block them timely.
While all of the above-mentioned tips can help you keep your children away from adult sites, you can also engage them in a discussion about the negative effects of pornography on their health. A proper discussion can help your kids understand what's good and what's bad for them on the internet.
As a parent, it is your responsibility to inform your children about the harmful effects of watching adult content on the internet. Children can stay away from such content once they realize why watching it can be harmful to them.
---