Here's Why Blocking Pornsites on Your Childís Device Is Vital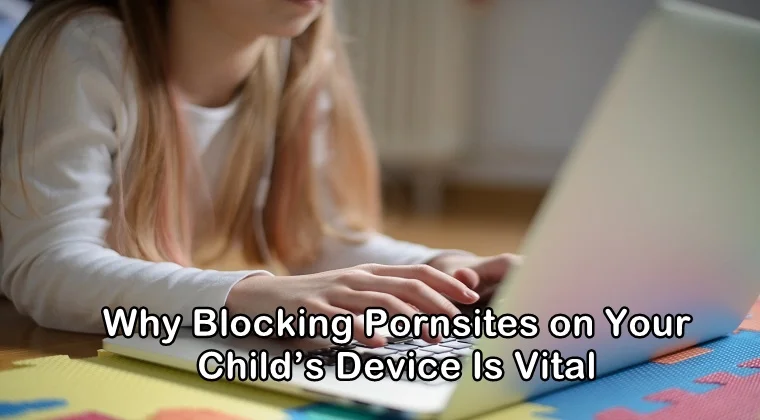 Do you know watching porn at a young age can have serious implications on your child's mental development? Kids may not understand this while they are watching porn on the internet but the consequences will occur after some time. There's a reason why children should not watch porn.
Blocking pornsites on your children's devices is vital because you wouldn't want your children to get exposed to porn at a tender age. Though several blocking and filtering software and apps have been launched in the market to prevent access to porn, children can still find a way around watching inappropriate content on the internet.
Porn blocking apps like SecureTeen have proved to be effective in filtering and blocking porn sites on children's devices but you still need to be vigilant about your kid's online activity. In this article, we will explain why blocking porn is important in today's digital age and how it can harm your children.
Why Blocking Pornsites is Important
Let us understand how harmful pornography can be for our children and why we should do everything in our capacity to filter and block porn sites on our children's devices, be it computers or mobile phones.
Porn Normalizes Sexual Harm
When children are exposed to sexually explicit and violent content on the internet, there is an increase in high-risk behaviors and their capacity for successful and healthy relationships is also altered.
According to research, it has been proved that pornography normalizes sexual harm. It portrays a lack of emotional and healthy relationships between consensual partners, unprotected sexual contact, and in some cases, rape and violence.
Young children and teenagers are more vulnerable to pornographic content than adults because their minds are young so they tend to believe that they are actually getting to experience what they see online. Porn has a stronger effect on children than other forms of media because it displays a higher degree of sexual content.
Encourages Aggression towards Women
Pornography creates sexism and hostility towards women than other sexual images found in the media. Porn promotes and encourages aggression and violence towards women. This can influence young boys to believe aggression towards women is socially acceptable and desirable. They think behaving aggressively and demeaning women is normal.
Pornography distorts the concept of real and healthy relationships. It portrays sexual relationships that do not reflect how real people look and behave in intimate relationships. Children may not be able to differentiate between love and lust. Therefore, they may also lose the ability to develop and sustain healthy relationships with their partners in the future.
Can Lead to Addiction
Exposure to pornographic material at a young age can lead to addiction. Children who get exposed to porn at a tender age may become addicted to it. Chances are, the addiction will become strong with time and then there will be no going back for the children.
When kids start watching porn, they take it as an enjoyable activity. However, the same activity evolves into a necessity. The addiction to porn can physically alter the child's brain and affect their behavior.
Children isolate themselves just for watching porn. They refuse to meet their friends and do not go out with them because they think watching porn is more pleasurable for them. This addiction can lead to serious health consequences such as depression, anxiety, and many other disorders.
Affects Healthy Intimate Relationships
It takes a lot of effort and time in developing romantic and sexual relationships for young people. However, constant exposure to pornography can compromise their ability to develop and sustain healthy relationships with their partners.
Exposure to sexual content can affect a young child's developing sense of what should be expected for men and women regarding sexual relationships. It can also affect their behavior negatively. Parents usually think the media is responsible for polluting children's minds.
However, pornography is more responsible because it displays more violent and graphic images that can have a greater impact on a child's mind. When children are repeatedly exposed to porn content on the internet, they may have lower levels of trust in partners and may also lose of finding any sexual exclusivity with their partners.
How to Block Porn Sites
Several porn blocking apps have been introduced in the market so far but SecureTeen is our recommendation. We recommend SecureTeen because it helps you block and filter content that is not suitable for your child.
Once the app is installed on your child's device, it starts evaluating the content your child sees on the internet. As soon as it comes across sexually explicit and violent content on the webpages, it filters and blocks them instantly.
Moreover, parents are also notified about their child's online activity instantly on their online dashboard. From the dashboard itself, parents can remotely monitor their child's online activity.
You can also block certain apps on your child's phone which you think are not age-appropriate. Similarly, you can block sites that are not suitable for them. Besides blocking sites, you can set time limits on certain apps and sites which you only want your child to access at particular hours of the day.
Besides filtering and blocking content, you can also monitor their entire online activity. From phone calls to text messages to emails to web browsing activity to social media sites to instant chat messengers, you can monitor every activity taking place on your child's device.
SecureTeen supports all the devices and platforms. So you do not need to worry when it comes to monitoring your child's online activity. It is compatible with all Android and iOS devices.
It is true that constant exposure to pornography can harm your children as it normalizes sexual violence, creates unrealistic expectations for intimate partners and healthy relationships, distorts the image of women in the eyes of young males and increases the risk of addiction.
Therefore, to prevent your children from watching porn on the internet, you need to install a powerful porn blocker on their devices. This will help your child stay away from adult content online.
---