How to Block Porn on YouTube for Your Kids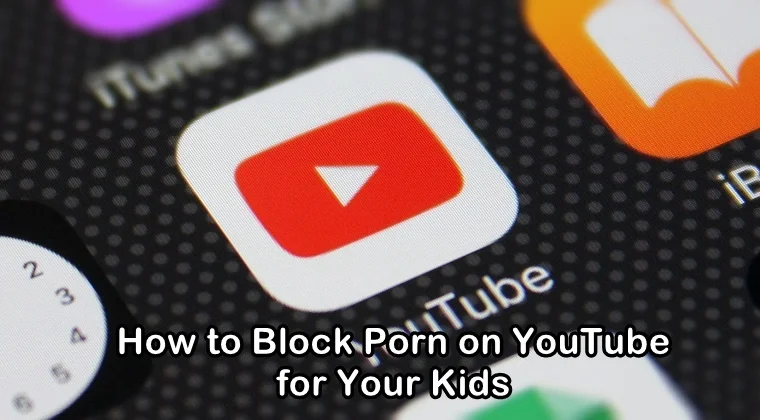 It would be no surprise to find out that your kid has been exposed to pornography on the internet. In this digital age, it is impossible to keep children completely away from online dangers including pornography.
According to a detailed case study featured on NYTimes, American teenagers watch more porn videos than their parents know. overindulgence in pornography is shaping their concepts about pleasure, power, and intimacy. It is also changing their mindset about a woman. What they see in porn videos, they want to implement the same in their real lives, no matter how ridiculous it seems.
What concerns us the most is how easier it has become for young children and teens to access porn and other inappropriate content on their digital devices via the internet. YouTube, just like other video streaming platforms, also contains inappropriate content that can be harmful to the kids.
Thankfully, YouTube does have a specific version for kids that can help protect our children from adult and inappropriate content. Besides using the kid's version, parents can also manually block porn or adult content on the video-sharing and hosting platform as well.
What's more, you can also use a parental control app like SecureTeen to block porn on YouTube so your kids cannot access such content. Let's learn how to block porn on YouTube and keep your children away from any inappropriate content.
How to Block Porn on YouTube?
YouTube is a video streaming platform that offers an extensive range of content to its viewers. At the same time, it also provides several features to restrict the content which you may find offensive and inappropriate for your children.
To get started, you can make your children use YouTube Kids. This version also comes with a separate app for Android as well as iOS that can be easily downloaded and installed on your child's cellphone.
YouTube Kids is a dedicated version provided by YouTube to provide family-friendly content for the children. By using this version of YouTube, parents can save a lot of time and be free from the hassle of restricting tons of videos on YouTube. They can let their kids use this version as much as they like.
While YouTube Kids is a child-friendly app, providing safe content for your children, parents can also customize it according to their requirements. Let's find out how you can make the most of the kids' version of YouTube.
Using YouTube Kids
To effectively learn how to block porn on YouTube for your kids, you need to first create an account for them. Follow the steps below to start using YouTube Kids:
Step 1: First of all, download the YouTube Kids app from your child's cellphone, depending on which platform they are using. Launch the app on their phone and then get started with the setup process.
Step 2: Now, you will need to provide your email address. You will receive a confirmation email to your address and from there, you will get an activation code to verify your email address.
Step 3: After you have verified your email address, you can create your child's account by providing their details like name, age, and other information.
Step 4: From here, you can also set the content level to block porn or adult content automatically on the YouTube Kids app.
Step 5: Last but not least, you will be required to generate a passcode that will help protect your kid's from accessing their account settings and alter the restrictions on the app on their own.
Step 6: Moreover, you can also change the password in the account settings. To do that, simply tap "Set Custom Passcode" to make appropriate changes and keep your child's account safe.
This is it. By following these simple and easy steps, you can start making your children use YouTube Kids.
Block Content on the YouTube App
YouTube Kids does the job of automatically filtering content for your kids. However, you can also block porn videos or any other inappropriate content on the app manually as well. To find out how to block porn on YouTube kids manually, follow the below steps:
Step 1: Open the YouTube Kids app on your child's smartphone and then open the video you wish to block on their phone.
Step 2: In the second step, you need to tap the three dots icon on the right corner on the thumbnail of the video.
Step 3: Now, you will see an option to block that particular video. Simply tap the block option and the video will be blocked from your child's app.
Step 4: Apart from videos, you can also block an entire channel on the app. You can also block a particular user on the app. To do that, you need to head to the profile of that user, tap More options and then select "Block User".
Step 4: If you ever wish to unblock the same content, you can head to the settings of the app, and tap "Unblock Videos". By doing this, you can unblock all the restricted videos.
SecureTeen – the Best Porn Blocker for Android and iPhone
As you have already noticed, learning how to block porn on your child's YouTube app can be a tedious process. Moreover, if you block adult content on their YouTube app, your children might try to access the same content through some other app.
To prevent this from happening, we recommend using an advanced parental control app like SecureTeen. This porn blocker software is effective in filtering and blocking porn content on your child's cell phone. You can also set time limits to a certain app or website on their phone using this parental control app.
Several features help you manage and control what sort of content your child is viewing on their devices and let you restrict the way they use their devices. With so many features, SecureTeen is a must-have parental control app for every parent out there.
You may know how to block porn on YouTube for your kids but with SecureTeen, you can achieve a whole lot more in terms of managing and controlling your child's online activity.
---