A Complete Guide on How to Block Adult Websites on Teensí Devices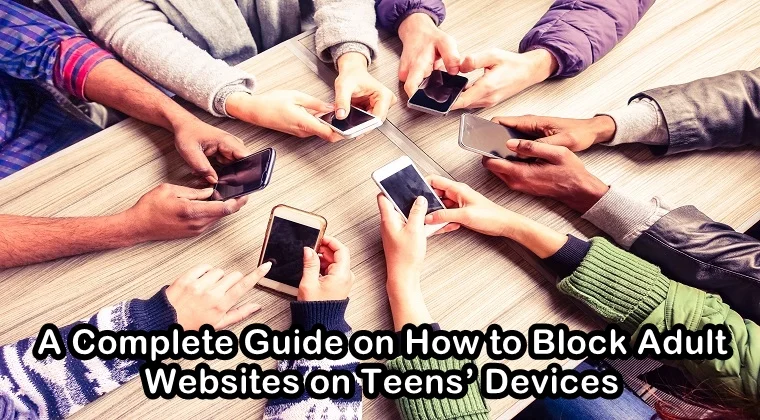 There are plenty of reasons to put restrictions on your kids' digital devices. At one point, they are using the internet and their devices for the study purpose, at the same time, they are being exposed to various non-educational things on the internet. These things just pop up out of nowhere when a person is using the internet. But, in this case, the person is your teenage kid. Are they ready to be exposed to such a thing?
According to an article about 'Online pornography', kids are easily exposed to explicit content. Sometimes they search for it out of curiosity, a friend shares with them, or it is simply a spam email or a link that leads to this filth in the very first place. Can you blame them for this? You can't, but you must do something for them. That's when you should be worried about how to block adult websites on teens' devices.
It is high time parents upgrade themselves and learn smartly. If it is not smart parenting, then you cannot keep up with this rising generation. If parents don't do anything, the impact of pornography on children will keep on increasing. Learn the technical and advanced ways to fight this threat for your kids.
There are plenty of ways out there to help you block adult websites on kid's phones and other digital devices. However, there are a few that are effective and easiest to use out of many options out there. Let's get to them:
1. Google SafeSearch
It is one of the best features offered by Google that lets you keep your kid's browser clean. If you enable it, even if the kid types in the specific keywords for the explicit content, the content won't show up. Google will clean out all the adult content and websites from its search.
Steps to enable it:
First, set Google as the default search engine on a kid's device. Whatever browser they are using, just go to its settings and change the search engine.
Now, open Google, and go its search settings. There, you will see an option of 'Filter explicit results' under the SafeSearch filters, tap on it. You have to lock it so that kids won't be able to undo it.
Now, close and reopen the browser and check it for all devices they have. Type in anything related to adult content and the results won't show anything. Regularly check their devices to see if the SafeSearch is still on.
2. Screen Time for iPhones and iPads
It is a built-in feature in iOS devices. It not only lets you control their screen time but also it has some privacy settings that let you put restrictions on the content they can see. You can control their phones remotely after enabling this feature.
How to enable it:
First, you get to decide what option would you like to choose. You can either manage your kid's device remotely with Apple's Family Sharing feature which works like other parental control products, or you can put restrictions on their phones using a passcode.
Now, open the setting on your kid's device. Tap Screen Time. Now go to content and privacy settings and there you will see a lot of options. You can determine there what to allow and what to not. Now, if you want to block porn, turn off all the explicit content.
In Screen Time of the Settings, you can enter a four-digit passcode that your kid won't be able to guess. It will lock your settings.
3. Internet Service Providers (ISP)
Internet service providers are offering their services now for parental controls. You can ask them to enable it and they will block the explicit content from their base. Your kids won't be able to get access to explicit content after this.
Some of the internet service providers cost some money on a monthly basis. However, they might offer you more than just blocking the adult website. They also offer some screen time management that will help you in many ways. Every company offers different features, you can ask yours and see what you like.
4. Using The Parental Control Software
A parental control software offers a variety of advanced parental control features including screen time management, monitoring, blocking adult websites, and much more. If you are stuck with the numerous options for third-party apps available out there, you can always choose SecureTeen.
SecureTeen is among the best parental control apps that let you control your kid's devices from your device. You can also see what they are doing on their phones from your phone. Any danger or threat will be visible to you even if they don't tell you. It helps in many ways especially when you want to keep your kids protected and secure.
How to use it:
You have to download and install the SecureTeen app on both kids' and parents' devices.
Now, choose the most suitable pricing plan for yourself. They have amazing cheap plans with numerous features.
You will make a customized child's profile on the parent's phone.
Go the dashboard now.
Login to the panel and start customizing the child's phone.
You can choose the profile you want to customize from the dashboard.
If you want to block adult websites, you have to go to 'URL settings' under the 'Rule Tab'.
Now enter the URLs to all the websites you wish to block.
Tap 'Block'.
Your kid won't be able to get access to those websites now.
Adult websites are the easiest access to such explicit content. You must educate your children about this as well. While you are putting these restrictions on them, they might be still looking for ways to get access. To stop this from happening, you must educate them properly about the threats associated with such websites. How they can ruin them, and their relationships.
Also, encourage them to talk to you about anything they want. Though dealing with kids on this issue is difficult, smart parenting and open communication can make it easy.
---