How to Track My Daughter's Phone Without Her Knowing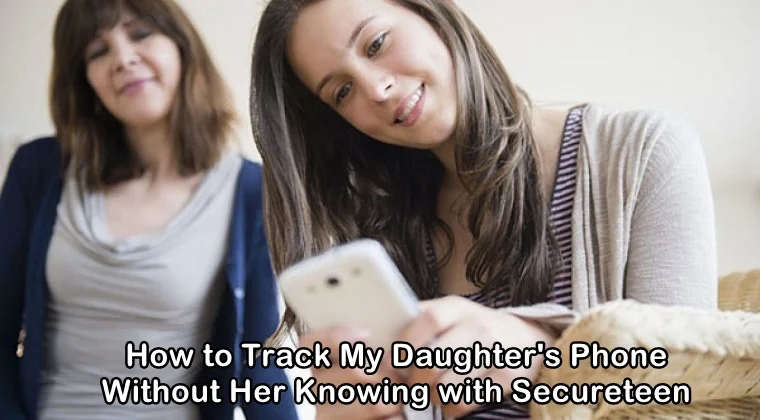 With the emergence of new technologies, many new ways of communication have been explored. Almost everyone has smartphones in their hands with unlimited access to the internet. The internet has made things very easy and beneficial for users.
When it comes to the range of people using it, there are billions of people with no restrictions on age or gender enjoying its benefits. Even younger children have access to smartphones. But not to forget, there is a huge difference in how a teen and an adult uses these digital devices.
The sensible use of phones and the internet can bring about many positive changes. But are we all using it sensibly? Are our kids safe with the smartphone in their hands? Teens are enjoying their period of exploring new things, so they are using the internet to connect with new people, share their life, dating fun, and kill their time.
Where they enjoy the better uses of the internet, they are also prone to the dangers of social media. Putting too much information over there makes them vulnerable. Also, when they are being stalked or suffering from cyberbullying, how would you be able to help?
Why Do You Need to Track Your Kid's Phone?
As explained very well in this article, all parents love their kids and are concerned about their safety. No matter if your daughter is at home or outside, you always worry about her. Same way, when the kids are using mobile phones, that should also be our concern. There are plenty of reasons why parents need to track their kids' phones.
1. Cyber Bullying
According to several studies, one-third of teens are suffering from cyberbullying. However, when they keep it secretive and don't talk to their parents, they often fall into depression and other mental issues.
Most of the kids don't talk to their parents about this because they think they will be scolded. And many parents are just unaware of the things happening to their kids. This ignorance can result in some really bad results.
2. Stalkers
If your daughter has a smartphone, there are a hundred percent chances that she is being stalked online. It is very common these days but if it reaches a certain extent, it might become really dangerous. Over the past years, several cases have been reported where teens were raped and murdered by unknown stalkers.
3. Health Issues
Are they addicted to their phones? Yes, they surely are. They want their phones when they wake up or when they are about to sleep. They want to post every moment on their social media. They are obsessed with selfies. Where is all this going?
As discussed in this article, these habits are not good for their mental and physical health. Tracking their phone will give you the autonomy to manage their screen time as well.
4. Adult content
When using the internet, the chances of being encountered by adult explicit content are very high. This content not only explores their minds to wrongdoings at the wrong time but also it makes them addicted. Along with its influence, kids also start sexting with each other.
When you track their phones, you can put a limit on the content they can see. Also, you can monitor their chats and call logs. This way, you will know what activity they are pursuing.
5. Location
You often get worried when your daughter doesn't come home at the scheduled time. With tracking the phone, you won't face this problem. You won't be blank minded and stressed out while thinking where would she be?
Simply know their location with the right phone tracker. Once you have installed it, you will know the location instantly.
How to Track the Phone Without Them Knowing?
Although there are plenty of apps for this purpose, we will be explaining a few here. By now, you might have understood well why you need to track their phones.
Teens these days are too possessive about their personal space. They might get offended by your act of tracking them. For this purpose, many apps are offering the services of secret tracking where the target person doesn't know that he is being tracked.
Let's see, what are the ways of doing this right:
1. Google Maps
Google Maps allows you to sneakily see the other mobile's location. The only catch is that you need to access the target phone first. Here is what to do when you have the phone:
Download and install the Google Maps app if it isn't already there.
Go on the menu and click on location sharing.
Make sure you click on "share your real-time location until you turn this off" option.
Select your phone to share the location with.
When you are done, you can track their phone's location.
2. Cellular Company Family Tracking Services
Mobile phone carriers such as Verizon offer their services like "family location" to keep an eye on your family members' phones. They let you access the location data from your mobile, tablet, or PC. All the mobile carriers are offering such services. You can choose the plan as per your requirement.
3. Secretly Track Your Kids' Phones Using "Find My Friends"
Though# Find My friends app is not for spying purposes, it can be used in that sense. This app lets you have the notification when the target person arrives or leaves a certain place. Here is how you can do it:
Turn on the option of "Find My friends" on the target phone.
iCloud has sharing options for all the devices. Just make sure that the sharing option has correctly viewed "This device" as the target device.
Now at the bottom end, click on the "Airdrop" option. Now, you will see two options as "Everyone", or "Contact Only".
Now, move to the target device and click add. Add your contact on the list. And click on "Share indefinitely".
You will receive a message, accept it.
Now your Find My friends app will show you the location of the target device. You can also hide the app from the target phone using the dock method.
4. Track Your Daughter's Phone Using SecureTeen
SecureTeen app comes with a lot of tracking options such as tracking chats, call logs, filtering apps and websites. It allows you to monitor your kids' social media activities. You can also use it to track them with them knowing. Here is how you can use SecureTeen:
If you are using Android, you have to install the apps on both phones and log in with the same credentials.
If you are using an iPhone or iPad, you can simply use iTunes credentials to get connected.
When you are logged in, you can start controlling and monitoring the target device. You can monitor their Facebook, Instagram., and other social media platforms.
Tracking your kids' phones was never this much easy. Now you can see what they are facing in the social world, and communicate with them properly.
---